Gas Furnaces in Des Moines
The gas furnace is the most popular heating system in homes, and for good reason. With Iowa's frigid weather, a gas furnace is an ideal comfort system. When it comes to replacing an older heating system or installing a new one, natural gas furnaces are one of the best choices.
Providing comprehensive services for gas furnaces, Schaal Plumbing, Heating & Cooling wants to ensure that your household remains cozy throughout the winter. You can rely on our NATE-certified technicians to install, replace, repair, and maintain gas furnaces in the area.
Our team at Schaal Plumbing, Heating & Cooling has worked on gas furnaces in Des Moines and the surrounding areas for many years. Get in touch with us today to schedule a consultation.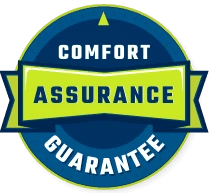 HVAC Service, Repair or Installation?
Call Schaal Yaall!
Call Schaal today at
(515) 293-4812
for more information about our Gas Furnace services and to set up an appointment, or easily schedule online!
Reasons to Consider Gas Furnace Installation
Gas furnaces seem old fashioned, don't you think? Many customers express this sentiment to us. However, gas furnaces have kept up with the times and are more energy-efficient-not to mention safer-than ever before. When it comes to installation or replacement of a furnace, you should consider a gas furnace if you have a gas line. There are a number of reasons for this:
Efficiency: Gas furnaces have one of the highest energy efficiency ratings of any heating system. The system will save you money every time it runs because natural gas is less expensive than electricity or heating oils.
Power: A gas furnace can't survive below a certain temperature. Heating power provided by these systems is top-notch.
Convenience: It's easy to save money with natural gas because it's piped directly into your home, so you don't need to worry about running out of heating oil.
Never Attempt Gas Furnace Repair on Your Own
Like any complex mechanical device, a natural gas furnace can malfunction. You should call our professionals for furnace repairs if you notice odd behavior from your furnace or you notice a drop in heating performance. It is extremely important that you do not attempt to fix the furnace yourself. A gas-connected appliance must be serviced by a licensed professional in most jurisdictions because it is not only dangerous but illegal. Make sure your heating system repairs are done quickly and correctly – call us today.
We Offer Gas Furnace Maintenance to Keep You Warm
Every year, you should inspect your furnace. Keeping a heater in good working order for many years to come will reduce the chances of repair problems and inefficient, money-wasting performance. Furthermore, it will ensure that the furnace operates safely! Our annual maintenance program ensures your gas furnace operates at peak performance.
Rely on Schaal Plumbing, Heating & Cooling for All Your Gas Furnace Needs
As a plumbing, heating, and cooling company, Schaal Plumbing, Heating & Cooling specializes in gas furnaces. Our company has been installing and maintaining them for almost 70 years. Get in touch with Schaal if you need gas furnace repairs, new installations, or replacements.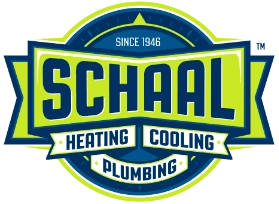 *Today's Offer*
FREE Furnace
Receive a FREE furnace when you purchase an AC! All you pay is the labor to install it. Limited time offer!
The Gas Furnace Experts at Schaal Plumbing, Heating & Cooling are ready to help! Call or easily schedule online, today.