HVAC Maintenance in Des Moines & Cedar Rapids
Our maintenance agreements are designed to save you money over time, effectively lowering the lifetime cost-of-ownership while extending the lifetime of your equipment. We do a thorough safety inspection by taking apart, cleaning all components, adjusting gas pressure, checking refrigerant levels, and checking all the motors. In total, we do up to a 47 point inspection of your system. All that brings it up to factory-fresh condition, which helps keep you and your family safe, as well as make your equipment last longer, prevent expensive repairs, and makes it run more efficiently.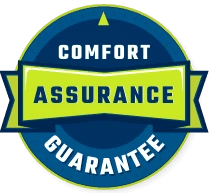 The Benefits of Schaal's Priority Maintenance Agreement and Guarantees
What is a Schaal Priority Maintenance Agreement?
When you enroll in a Schaal Priority Maintenance Agreement (SPMA) with Schaal Plumbing, Heating & Cooling, you'll receive regularly scheduled tune ups and maintenance visits performed throughout the year, ensuring your equipment is running at peak efficiency saving you money on your energy bills!
Why is regular maintenance important?
Occasional tune-ups to your system prevent small problems from turning into big, expensive repairs. Not only does it keep your family in a safe climate-controlled comfort, it gives you peace of mind knowing your system has been inspected recently. Rest assured with a SPMA from Schaal Plumbing, Heating & Cooling.
Enjoy peace of mind at great value with any of our Planned Maintenance Agreement packages.
You're sure to pick a plan that fits your needs and your budget with our various maintenance package options. Ensure your HVAC system is maintained regularly for as little as $14.83 a month. Scheduled maintenance for your home's Plumbing, Heating and Cooling systems starts at just $33 a month.